Revealing Quizilla etc, etc...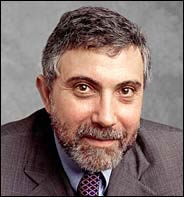 You are Paul Krugman! You're a brilliant economist
with a knack for both making sense of the
current economic situation and exposing the
Bush administration's lies about it. You
somehow came out as the best anti-war writer on
the Op-Ed staff. Other economists hate your
guts for selling out to the liberals. To hell
with 'em.
Which New York Times Op-Ed Columnist Are You?
brought to you by
Quizilla
Hey, neat. I got what Ezra wanted. Link via
Pandagon
.